Latvian technology innovation companies LMT and MikroTik jointly created and are launching the sale of the "MikroTik LMT LTE18" router. The router has been completely designed and produced in Latvia. It employs the latest generation technologies to provide faster internet for connected devices
.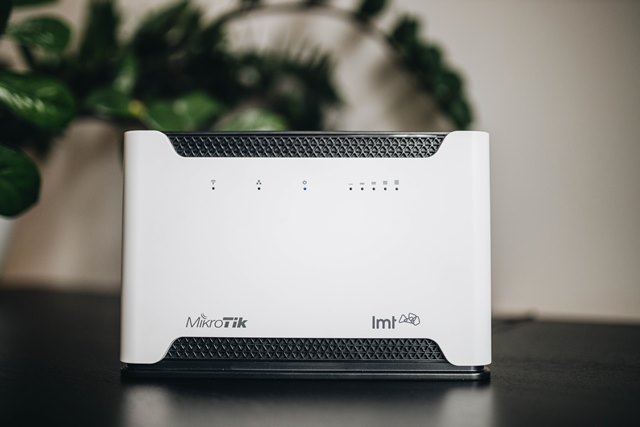 "LMT, together with its partners, is working on the development of the 5G network as well as the design of new products and solutions to enable full use of the advantages and opportunities provided by 5G in the future. Working closely with the domestic ICT industry giant MikroTik, we have jointly created an innovation laboratory, which has already produced 4G routers and prototypes of 5G routers. Several other solutions are under development, and a high-capacity data transmission network for Latvian research institutions with a speed of 10 Gbps has just been jointly established, which facilitates the work of scientists. Looking to the future, it is clear that innovation and technology companies are the driving force of society's digital transformation, therefore this is an unprecedented opportunity for Latvian ICT companies to use their knowledge base and its immeasurable potential, strengthening their leadership not only on domestic but also foreign markets," LMT President Juris Binde emphasised.
The Latvian-made router "MikroTik LMT LTE18" uses the latest generation LTE technology – LTE18, which allows both downloading and uploading data at a higher speed than before. The LTE Cat.18 modem, integrated in the router, enables download and use of up to 5 frequencies simultaneously, and uploads on up to 2 frequencies. The maximum download speed provided by the router is 1.2 Gbps, and the upload speed is 150 Mbps. According to the device developers, LTE18 technology supports MIMO 4x4, so the device has four antennas that connect to the base station, resulting in a more stable internet connection. Considering that this router is fully manufactured in Latvia, a member state of the European Union and NATO, and meets the highest security standards, this product has great export potential.
As explained by the developers of the "MikroTik LMT LTE18" router, it is intended for customers with high data consumption, who regularly use the internet connection not only on a computer or a phone, but also on other devices, such as game consoles, Smart TVs or area surveillance cameras. The router is also suitable for operators who use specific virtual private network (VPN) connections, as well as provide public internet access to their customers or local network users, because the router's operating system also provides Hotspot functionality and a wide range of specific configurations.
"Everyone understands that 5G will bring not only unprecedented data speeds, but also millions of sensors, smart devices, devices and automated solutions that will work in this network. Therefore, while designing this router together with LMT, we kept in mind not only the current technological needs of internet users, but also how they will change in the near future; 5G capabilities will become more and more available in every sphere of life. For this reason, the MikroTik LMT LTE18 router has expanded functionality that will satisfy both business customers and any household requirements, not only now, but also in the foreseeable future," says John Tully, co-owner and chairman of the board of technology company MikroTik.

Starting from today, the new routers are available together with LMT internet services and Smart TV.