Easy to buy on the road – in Narvesen newsstands in the whole of Latvia!
PRE-PAID MOBILE INTERNET
ON COMPUTER OR TABLET
No contract! Pay as you go.
If you do not need the Internet regularly (e.g., on a weekend, in a holiday house, while you travel), but you would still like to use it in unexpected situations (e.g., in a hospital, library) without any contractual liabilities, this is the right choice!
NO contractual obligations
Modems operational in the 4G network
Pay only for the day or week, when you use our services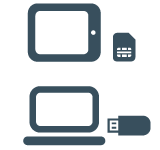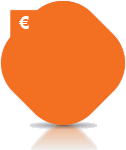 FROM
1
40
per day

FOR A DAY
1 GB*
1.40 € per day
If you do not use the Internet regularly, but when you do, you take your time – for hours and hours...

FOR A WEEK
10 GB*
5.65 € per week
If you do not use the Internet regularly, but when you do, it takes several days...
* If you have purchased "LMT Karte Internet on Computer" or "Pre-paid Internet on Computer", your will be able to use the data allowance indicated on the package.
All charges in €, incl. VAT.
*
Text a command, if you want to subscribe to the service for a specified fee already now. Information about
the right of wirhdrawal
(lv). In case of one-time purchase, the service is provided at once, without applying the right of withdrawal.